Week-end
C'è questo concerto. Rock anni '50-'60, the Chicless.
E si balla fra le prime file. Si sbevazza. Un piacevole sabato sera.
Fino a quando un tarlo non s'insinua nel cervello, fino a quando non torna un'ombra nera a giocare dietro agli occhi. Mi spengo.
Il concerto finisce. Torniamo alla macchina. E Daniele, dovrebbero farne altri di cosi così.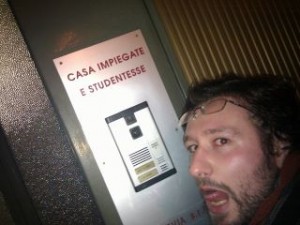 Si parla. Ecco, parlare, come con Claudio, al recinto dei cani.
Stamattina sono in macchina. Emerge dall'autoradio I used to love her. Che ci sta come canzone, decisamente significativa, specie se è Domenica mattina, c'è il sole e c'è una Vita da vivere, da qualche parte.
Ecco. Perché ieri a un certo punto era unbearable. Basta. Basta in qualche modo, tempo, spazio, universo-mondo, di percorsi e inciampi e valli strette e frane e, Dio non voglia, allergie all'alcol. Basta. Dai, facciamola finita, secchiamola come fosse una bottiglia di San Simone, che non le piaci quando la lasci così, a metà, e vai a controllare l'e-mail.
Poi oggi ci troviamo per un pomeriggio a Bretzel e Glühwein. Io, Camille, Silvia. Le incursioni della coinquilina. E voglio dire, lo stencil storto. Chiaramente, irrimediabilmente storto. Sono cose che creano disequilibrio nell'intera cucina.
La nostra programmata merenda finisce alle undici di sera. Si è parlato. Ho avuto modo di sentirmi un giovane di fine Ottocento, scivolato fuori tempo. Che strano non odiare più le domeniche (come fa Nastia). Io ci affogavo. Io mi annoiavo troppo, sanguinavo dalla noia. A volte fissavo il soffitto e prendevo decisioni… forti, per sanguinare d'altro, forse. Per vedere se ero ancora vivo. A volte guidavo per vie e paesi che non avevano merito alcuno che non fosse un po' d'asfalto.
Oggi è stata una buona Domenica e a me piacciono le persone. Ho anche il biglietto di ritorno dalla Francia, ora mi serve quello di andata.